Assessment and Rating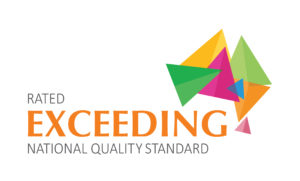 As well as following the Early Years Learning Framework, Leap Ahead Learning is proud to follow all quality areas set out in the government's National Quality Framework.  It is evident in all that we do that we are achieving the goals of these 7 quality areas.
The seven quality areas are:
1. Educational program and practice.
2. Children's health and safety.
3. The physical environment.
4. Staffing arrangements.
5. Relationships with children.
6. Collaborative partnerships with families and communities.
7. Leadership and service management.
For Information About the National Quality Framework
Quality Improvement Systems: National Quality Framework (NQF) The National Quality Framework (NQF) came into effect on the 1 January 2012. This  involved the introduction and implementation of the Education and Care Services National Regulations (2011), the Education and Care Services National Law Act (2010) and the National Quality Standards (NQS) (2011). (For more information on the new National Quality Standards, see www.acecqa.gov.au or http://www.acecqa.gov.au/nqf-changes/guide-to-the-national-quality-framework ).
The National Quality Standards (NQS) are linked to the National Early Years Learning Framework – 'Belonging, Being and Becoming' (2009) (http://files.acecqa.gov.au/files/National-Quality-Framework-Resources-Kit/belonging_being_and_becoming_the_early_years_learning_framework_for_australia.pdf) which recognises that children learn from birth.
All early childhood settings within Australia are required by law to have an external assessment and rating on their service. Education and Care Services are assessed and rated against the NQS. Australian Children's Education and Care Quality Authority(ACECQA) undertakes the assessment and rating process. (http://www.acecqa.gov.au/assessments-and-ratings). The process reflects a uniform approach to assessment and reporting across the range of service settings. The important reform of education and care assessment and rating aims for an outcome of a higher standard of care for children in critical areas such as education, health and safety. It provides clear and comprehensive information for families so they can choose the best service for their child.
Leap Ahead Learning is a new service beginning in 2017.  We had our first ACECQA assessment and rating in late April 2018. We proudly achieved the much sought after 'Exceeding' rating. Achieving the rating of 'Exceeding' means that we are delivering the highest quality of education and care across all areas. It means this high quality is embedded in our service operations, comes about from critical reflection and is shaped by meaningful engagement with families and/or the community.  https://www.acecqa.gov.au/sites/default/files/2018-06/NewGuidanceDetermingExceedingNQS.pdf
Part of our ongoing preparedness for the assessment and rating processes is to have a Quality Improvement Plan (QIP). (http://www.acecqa.gov.au/quality-improvement-plan_1 ).  Leap Ahead Learning's QIP is a working document that assists us to strive for continuous improvements that are aligned with the NQF, NQS, National Laws and National Regulations. It is always Leap Ahead Learning's goal to strive for continuous improvement in all areas of the education and care that we provide. Leap Ahead Learning's QIP is available for viewing on request.
An Excerpt from our ACECQA Assessment Letter is located below.