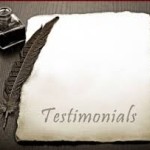 Read What Parents Have to Say
Parent Testimonials:
My daughter, Miriam was fortunate enough to have Keryn for two years, both for pre-prep and prep (foundation).  Starting school was always going to be a challenge for Miriam, who has fragile X syndrome and as a result has significant anxiety and developmental challenges.   In the classroom Keryn was a fun teacher and Miriam was always saying 'I love Keryn'.  She was able to assess Miriam's learning needs and adjust lessons to my daughter and every other child's ability, appearing to make it look easy. She has a vast knowledge of literacy and as a result, assisted in helping Miriam's reading, with individual strategies tailored to Miriam's learning needs.   
She was warm, engaging and accepting of every child, gently guiding the behaviours.   I sat in her room a few times and watched as she worked with the class while gently explaining expected behaviour in a way that a child was respected, yet learning how to behave promoting social skills.  Having Keryn has made Miriam not only manage school and all its expectations, but has led her to be loving school, enjoying learning, keeping up with her peers,  establishing and maintaining friendships and becoming very much accepted in the school setting.   I see a confident and resilient child. 
Thank you, Keryn. 
Bronwyn - Greensborough
Our son was in Keryn's prep class a few years ago.  He has Aspergers and being in Keryn's class was like being in social skills group 5 days a week.  He was engaged, happy, secure.  It was a real pleasure to help out in the class room – to watch this group of children, all with different needs and skills, interact and learn together in a very nurtured and happy environment.  He loved that year of school and developed beautifully, both academically and socially.  Keryn is a very talented teacher, great communicator (with parents as well as children) and incredibly hard working.  Thanks again Keryn for everything.
Stephen - Eltham South
Keryn taught my grandson in Foundation K in 2014. Keryn is one of the most dedicated and caring teachers I have ever known. Her out comes with Gabe were excellent. I wish Keryn well in her future and consider her to be a great asset to any educational body that she would be associated with.
Cath - Diamond Creek, Victoria
Our oldest girl has Asperger's; she is ferociously bright but suffered from terrible anxiety around sensory issues, group dynamics, social interactions, transitions, motor-planning challenges and a host of other daily situations. Before starting school we had real doubts that she would ever be able to function happily in a mainstream classroom. 
We won the lottery in having Keryn as her first teacher, in a foundation transition program. Keryn was warm, inclusive, and had an uncanny insight into the needs, interests and strengths of each child in her class, and the particular challenges they faced. Keryn gave our daughter (and later, her little sister!) the best start to her education we could have hoped for, and taught her a wide range of skills she continues to use and develop.
Keryn was an exceptional teacher for our youngest son, always going above and beyond her role as an educator.  She treats each child as an individual, recognising and engaging their talents, while at the same time helping them to manage their insecurities in an encouraging and nurturing way.  Keryn was completely dedicated to her students but always made time to communicate with the parents and was always happy to discuss any concerns we may have had.  We cannot recommend Keryn highly enough and thank her for giving our son such a positive start to his school life.
Ola and Howard - Greensborough
Keryn taught my daughter for the whole of last year. It was the most amazing year of her life. So much so that she now aspires to be a teacher herself (at the ripe old age of 6). Keryn is so invested in teaching children and bringing them to their full potential that writing a small blog does not feel enough. She is the most caring, patient, helpful, understanding, compassionate and kind person I've met in the educational system and also In life. I 100% will be engaging in her services should my children need the assistance. I know it would be a true investment in my children's future.
Shannon - Greensborough, Victoria
My son was taught by Keryn last year and I saw amazing results. She is so inspiring, kind and truly an amazing person. My son thrived and loved having her as a teacher. Thank you Keryn for the great start you have given my son in his education!
Natasha - Eltham North
We would like to express how grateful we are to have had you teach our daughter in her first year of her school life.   You have such passion and created an amazing learning environment!  You take the time to nurture each student, their individuality and how best to work with each child, so that each one can reach their full potential.  Thank you for all of your hard work, may you continue to inspire and teach the lucky children who may cross your path…know you have made a difference!!!
Narelle – Eltham North
Our family cannot thank Keryn enough for the strong foundation she has given our twins in starting their school life. Through a fun, nurturing approach Keryn has built their self esteem, confidence and a love of learning. They have now started school and are thriving.Robyn - Greensborough, Victoria