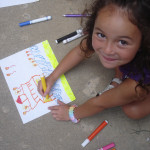 PRE-PREP:  Little Leapers - Two Programs 

Leap Ahead Learning is very excited to introduce Little Leapers which aims to set your pre-school child up for success in all areas of school readiness. There are two programs to choose from: Core (1 day/week - non funded) and Extended Core (3 days/week - funded)
WHAT EXACTLY IS LITTLE LEAPERS:
~Three days a week (Tuesday, Wednesday and Friday) full day program (9.30am - 3.00pm) and is run during school terms.  
~ The One day per week program is run on Monday.
~Little Leapers is taught by qualified experienced teachers who have specific pre-prep and special needs teaching experience and training.
~Little Leapers follows the Keryn Johnson Learning Foundations.  This philosophy of learning is  a multi-sensory child centred approach.  It combines Leap Ahead Learning's literacy program, our social skills program, a strong resilience/mindfulness approach (that focuses on gratefulness and times for meditation, yoga, music and movement - based on teachings from The Resilience Project), along with other school readiness skills such as numeracy/maths concepts, gross motor development, fine motor, oral language, etc.  
~Our multi-sensory approach incorporates a strong play-based learning module with more structured activities. 
~Little Leapers is best suited to children who would be completing a second year of 4 year old kinder.  It truly is a stepping stone between kinder and school; offering more than kinder, but is not as challenging as school.  It offers a structured curriculum, but is done at a slower pace than school.  It also looks at the needs of the children and makes accommodations for these. 
~Little Leapers can be used to supplement 4 year old kinder or used as substitute.  (Please note though, parents will only receive Government funding for one kinder placement not for two different kinders.  Therefore, you will need to pay for one of your kinder positions privately if you are going to attend two kinders).  
~Little Leapers is suited to normal developing children or those who may have mild special needs.
~Children need to be fully immunised and toilet trained to attend.
~Places are limited and it will be offered on a first come first serve basis from when your Expression of Interest form has been received. Once our places have been allocated, a waiting list will be formed. Please contact us or email Keryn to receive an Expression of Interest form: keryn@leapaheadlearning.com.au.
Little Leapers not only sets your child up for a successful start to their school life, but also develops important life skills, giving your child a leap ahead for now and into the future! 
See the video below about the literacy program we use called Little Learners Love Literacy.