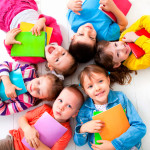 Frequently Asked Questions
Please feel free to contact us for any other information. We'd be happy to help!
Do you have long day care available? 
No, sorry, we don't have the option for extended hours for care before or after the session. However, parents can choose the local Family Day Care service provider Happy Campers. They may even be able to drop off and pick-up for you: https://happycampersfdc.com.au/
Do you provide the food? 
No, our program is the same as 'regular' 4-year-old kinder or school so children bring their own food to each session.  This consists of a snack and lunch.
Do I need to pay for extra-curricular activities like excursions? 
No, everything is including in your fees including specialist sessions such as yoga, Mini Maestros Music, P.E., art, incursions and excursions.
My child has allergies. How do you cater for this?
If your child has allergies, we ask that you bring the appropriate medication along to each session in a clearly named bag and your medical action plan. A medical plan can be obtained from a GP if you haven't got one. Leap Ahead Learning's staff are also first aid trained and we have risk minimisation procedures in place.
What are the exclusion periods for illnesses?
To maintain the good health of all children and staff at Leap Ahead Learning if your child is unwell there are set periods of time to wait before she or he can return to preschool. Please see the following website for a detailed list:
https://www2.health.vic.gov.au/public-health/infectious-diseases/school-exclusion/school-exclusion-table
Do I need to do fundraising? 
No, as a Leap Ahead Learning parent there is no major fundraising at all.  There is an optional minor fundraiser once a term where parents are asked to donate an optional gold coin.  These days are usually directed by the children and are used to help promote empathy and care towards others. Such days are 'Heart for Heart Kids Day', 'Day for Daniel', 'Footy Colours Day', etc.
What if I needed to miss part of a session each week to take my child to an activity such as dancing or speech therapy? 
It is fine to miss part of a session due to outside commitments, although, unfortunately, we aren't able to make a deduction from your fees if this happens.
Does my child get homework?
At Leap Ahead Learning we encourage as much interaction as possible with your child rather than formal homework. We encourage parents to play informal games such as 'Eye Spy' and to read with your child.